SEO Professionals
All features included!
SEO Pros or Agencies
SEO Pros or Agencies
Brands or Agencies
From
$
999
899.10999
per month
Sites
Your sites and competitors will be analyzed and monitored at the most indepth level possible, providing you with competitive intelligence as never seen before. The number of sites is refreshed monthly.
Backlinks Analysed per site
We start by aggregating the backlink data from the most trusted link databases, in order to provide you with a complete set of links. Next we crawl and analyze the links on-demand for each individual customer offering the most comprehensive backlink audit. Each plan has a maximum number of links that may be analyzed per site. You can always upgrade to a higher plan if your sites require extra analysis.
Backlinks Analysed
per site
Keywords Tracked per account
Your keywords are tracked on all the local versions of Google,Bing and Yahoo on a weekly or daily basis. This is the number of keywords we track per account, on a weekly basis
Keyword Tool
Our Keyword tool & Content Assistant is actually a full stack marketer that will help you get top rankings by combining 3 in-depth features : Keyword Research, SERP Analysis, and Content Optimisation.

SEO Dashboard
With over 35 metrics, our SEO dashboard allows you to get essential data in real time, easy to share with your team members and even your clients.




Users
You can create users, both for your team members and your clients. For best integration you may also create custom roles.
Whitelabel & Reports
Setup scheduled reports to be sent automatically to your clients. Replace cognitiveSEO's branding with your company's logo in all the reports + Get your own subdomain mycompany.cognitiveseo.com




API
Use the API to power your applications and scripts with the powerful and unique data that cognitiveSEO processes.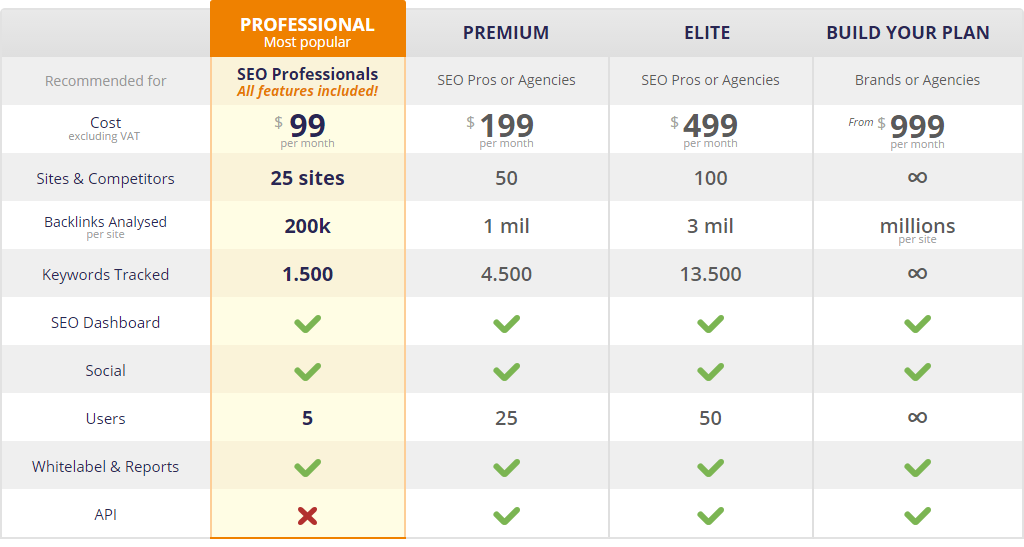 Start Your Free Trial in Seconds!
Free for 14 days, then only $99/month.
No Obligations. You can Cancel Anytime.

By registering your account you agree to the Terms of Service

"Having been fortunate to have used a lot of different seo/link tools over the years, Cognitive SEO is a valuable resource for WMG. It offers excellent link insight and has the flexibility we need to run scalable modern organic search campaigns. "
MARTIN WOODSwebmarketinggroup.co.uk

"The cognitiveSEO toolset is a great toolset for any savvy SEO. A lot of great features and tools for a reasonable pricing. Just take the tools for a spin!"
MARCUS TANDLERmediadonis.net
Used by Thousands of SEO Pros, Agencies and Brands

Common Questions
Why do you need my CC or Paypal for a free trial?
We ask for your credit card to allow your membership to continue after your free trial, should you choose not to cancel. This also allows us to reduce fraud and prevent multiple free trials for one person. This helps us deliver better service for all the honest customers. Remember that we won't bill you anything during your free trial and that you can cancel at any moment before your trial ends.
Do I have to sign a contract?
No. You will be billed each month, thus allowing you to change or cancel your plan anytime. Please keep in mind we don't issue refunds for partial months.
How does the 14-day trial work?
To sign-up for a cognitiveSEO trial, you need to choose the Professional plan, validate your CC or Paypal account and the first 14 days are FREE of charge. After you create the account, you get instant access to all cognitiveSEO features for 14 days. Enjoy using cognitiveSEO with no limitations. However, you are free to cancel your account during the trial period or anytime you may wish after that. If you decide not to continue, you won't be charged a thing.
Can I pay using Paypal?
Yes. You can either pay by Paypal or Creditcard. Paypal trials are available also.
More questions...
Compare All Plans
# of websites analyzed per month
Unique & Helpful Features
Unnatural Links Detection












New/Lost Links E-mail Alerts




Rank Tracking E-mail Alerts








Google Indexation & Malware Check



# of backlinks per website












Brand vs Commercial Anchor Text




Google Webmaster Tools Import












Actionable Charts & Profiles




Competitive Link Analysis












E-mail Alerts - New/Lost/Unnatural Links




# of weekly monitored keywords
# of daily monitored keywords
Google/Bing/Yahoo tracking








Competitor Rankings Comparison




E-mail Alerts - Ranking Changes




Facebook/ Twitter/ Google+ Monitoring












Keyword Tool & Content Assistant













Competitor Keyword Analysis












# Shared credits Keyword tool & Site Explorer








[custom].cognitiveseo.com




# of site explorer reports per month